Posted by Brittney | Filed under Before & After, Decorating
Oh, hey all you fine pinning fools! Are you ready for another Pinterest Challenge? Bower Power and Young House Love have thrown down the challenge gauntlet again for more doing, less pinning. Last time, I made over my $20 thrift store campaign dresser. This time, I had storage on the brain again. Hudson has become a crawling machine lately and my most favorite Craig's List find ever, the glass coffee table, was becoming a huge hazard. So I sold it for $100 bucks with the intent to DIY a storage ottoman (you saw a sneak peek here!). Here's my original pin-spiration:
I love the tufted look of the ottoman and that it has storage as well. I did not love the $527 price tag. Yeouch! So I trolled Pinterest for a DIY tutorial. Score, found a great one from This Old House.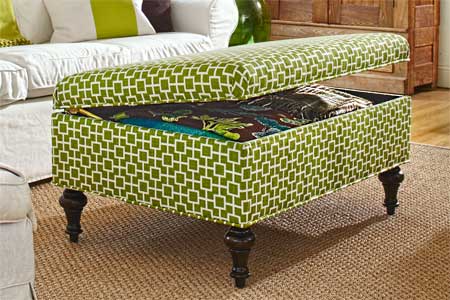 I somehow roped my Dad into helping me with this project. Something about this is for your grandson convinced him. His help and garage space was what made this project a success. Before you take this on let me tell you, it is A Project. It wasn't particularly difficult but we had the space, the right tools and 2 people working on this. So, if you're still with me, let's get to it!
I'm not going to do a step-by-step tutorial on the actual building since the linked tutorial above is very thorough! One tip: if you don't want to do all of the measuring and cutting at home, you can take your cut list to Home Depot and they'll do it for you! The wood and supplies cost me $48. I used plain plywood instead of the birch plywood recommended and I haven't had any problems.
Okay, so now that we have the box built, let's get to the tufting and upholstery!
We pre-drilled the 15 holes on the lid of the box to thread the upholstery needle through.
My button making supplies, upholstery thread and needles. This ran me $12-ish from Joann's. You will definitely need the upholstery thread. Do not try to do tufting with regular thread. It is not strong enough.
I bought my foam, batting and linen from LA's fabric district. I definitely got a deal on it! $30 for 3 inch foam and 6 yards of batting. I spent $18 on the linen (a little over 2 yards). If you're not in LA, you can get foam from JoAnn's or Hobby Lobby but remember to take your 50% off coupon since for some reason foam is super pricey!
Lay your lid onto the foam and trim around it. I used scissors but I'm assuming a serrated knife would be much easier!
Leave about an inch of foam around the entire board. It will make it nice and plush when you wrap it with the batting and fabric.
You'll want to cut a hole in the foam where each button will go. Make sure you remove the foam from the hole completely. This is going to make your tufting look much deeper and professional.
Next, wrap that baby with batting. I did 2 layers since we are overprotective, first time parents. No way are we getting any head injuries on this bad boy!
Next you'll want to use your button kit to make enough buttons for all of your tufts. This was super easy to do. I don't have any pictures since I haven't taught Hudson to use the camera yet and it was a two handed project.
After you're done with the buttons, lay your fabric out and thread your upholstery needle. I chose to double my thread twice (so I have 4 individual threads holding the button down). Hopefully the picture below makes that a little more clear.
Start on the top row, middle tuft and get threading!
This actually goes much faster than you think it would. Just be sure to smooth your fabric down and fold it into the diamonds as you go.
One tip that I have is to tie a plain old washer to the end of your embroidery thread so you have something to staple to the back of your lid. Otherwise you have to be super accurate with the staple gun to catch your thread and pull it taut. I'm sure I picked this tip up on some blog or tutorial but I cannot find it for the life of me (if it was you, let me know!).
It makes it so much easier to staple and pull the tuft down tightly. Once you're done with the tufting, you're ready to staple your fabric down. Just smooth the fabric, pull tight and staple away.
It should look like this once you're done. Make sure to trim the excess fabric.
Done with the top portion! Now let's tackle the base. I chose to sew my side pieces together to save on fabric cost. If you don't have a sewing machine, you can definitely just buy the length of fabric you need and trim the excess.
I doubled my batting again, set the base on it and just wrapped it up!
All ready for fabric. I also painted the inside of the base with a test pot of paint from Home Depot and added some Chevron stripes for fun.
Just staple around the base on the top and bottom, making sure to pull the fabric tight as you go.
I installed a piano hinge next, which was almost the death of me. Seriously, this was the hardest part of the project. If you have someone who is willing to help you, this would be the part of the project to utilize them!
Now you have an official ottoman to kick your feet up on! The only thing I would do differently would be to make the box a little shallower. The tutorial I followed suggested a 10 inch base. With that, plus the lid and 3 inch foam made it the perfect ottoman/coffee table height, without legs. I really wanted to add legs like my inspiration photo though.
I decided to bite the bullet and splurge on these furniture legs. They were a splurge at $75 but I think it really made the end result! So here's how we did that. I bought T-nuts for $1.98 for a pack of 4. I flipped the ottoman over, pre-drilled holes and hammered those suckers in all four corners.
After the t-nuts were secure, I just screwed the legs in place. It should look like this when you're done. Tip- be sure to trim up your batting and excess material so it won't hang down when you flip the ottoman right side up.
I was really hesitant to push the "buy" button on these legs but I am so glad I did. I think it makes the ottoman look less like a fabric covered box and more like a legit piece of furniture.
My favorite view…all of those brightly colored toys neatly corralled with space to spare!
Oh yeah, how about a details shot? Because if you can't get excited about an ottoman on brass casters, than what can you get fired up about?
I am seriously in love with this thing! I'll miss the fabulous glass coffee table but this is a pretty good replacement.
Ok, one last picture.
This project rang in at about $200. It's more than I anticipated spending but I really wanted those legs. The budget breakdown is as follows:
$50: lumber, hinges, miscellaneous building stuff
$48: foam, batting and fabric
$12: upholstery thread, needles and button kit
$90: furniture legs (shipping included)
It definitely beats the $500 inspiration piece price tag. I also used my funds from my coffee table sale so I wasn't out too much. Plus, I get to say, yeah, I made that. NBD.
I'm also linking this project up with AP for Hey! That's Pintastic! Since I almost never have my act together to link up. Follow all of my Pinterest boards here!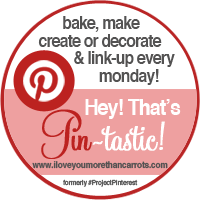 Tags: DIY ottoman, pinterest challenge, storage, tufting
23 Responses to "Pinterest Challenge: Storage Ottoman"
Leave a Reply